In the competitive market of collaboration tools, Google is investing in Chat to challenge the likes of Microsoft Teams and Slack. If you are unfamiliar with the applications listed above don't feel left out. All three applications focus on consolidating the bombardment of communication tools that employees interact with on a daily basis. Chat and its competitors provide a single place for messaging, document editing, and files sharing allowing your users to effortlessly collaborate in realtime. Chat's most recent updates allow External Users into a Chat room and a new Chat app that allows users to collaborate without an internet browser! No matter what G Suite license you use, Chats is included at no extra cost.
Adding External Users

Collaboration as a general term is simple, however, Chat goes a few steps further with context aware conversations. Searching and appropriately responding to email threads is a burden for anyone in the workforce. Context aware conversations allow organizations to create rooms based on topics and conversation. As an example, anything related to Accounts Payable issues will be found in a single room. Room members find the most updated information in real time by checking the Accounts Payable room. If users require additional granularity, members can create threads within a room for specific topics related to Accounts Payable. Until recently these features were only available for users within your domain. Now Google is allowing external users to join your rooms. Chat users are able to interact in real time with everybody! Any of your clients, Partners, and consultants can communicate with your team members through secured rooms setup by your organization.
Getting started with External users in Google Chat is simple. The first step is ensuring that you allow External Communication for Chat in the Admin Portal.
Once you have verified that external communication is enabled, simply create a new room in chat, check the box allowing people from outside your organization, and add anyone (including Google Groups) into the room.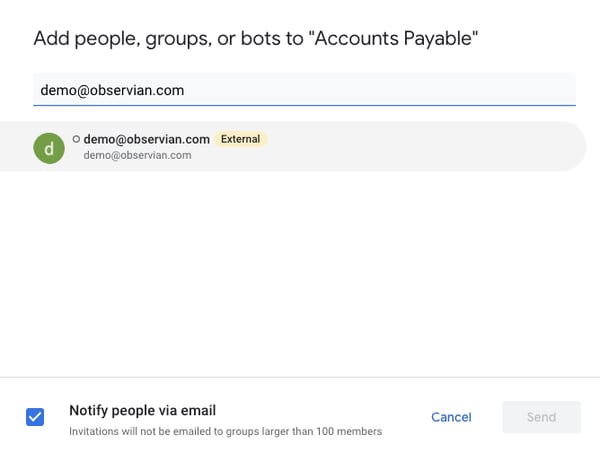 With users added you are ready to start collaborating through Chat, Drive and Meet from a single spot. A quick caveat, rooms created before this release will not be able to add external
users.
Chat App
The next defining update for Google Chat is the stand alone App for desktops. Gone are the days of having to interact with Chat through a browser window. Chat has a free desktop app that allows for instant messaging, meet, and file sharing wrapped with a user friendly interface. The new app is a Progressive Web Application (PWA). Advantages of PWA apps are quick installation, automatic updating and better load performance because of its connection to Google Chrome.

As a final touch, Google has made domain wide installation simple through the Admin portal. Follow the link to see for yourself.

Want to try G Suite features for free? Let us know! We have teamed up with Google to offer G Suite Essentials until September 30, 2020 at no cost to your company.

Don't forget to share how your organization uses Chat in the comments below.