Meet + Chat + Drive Enterprise = Free 👍
With the world in crisis, work transformation has never been more important. Organizations everywhere are scrambling to find methods for safe and efficient work. Today's adaptation requires agile collaboration tools that focus on bringing teams together from remote locations. Daily meetings, discourse between co-workers and document versioning/editing can be overwhelming without in-person interactions. Google has seen this dramatic shift in work culture and is helping by offering three essential collaborative tools for Free. Starting now until September 30, 2020 organizations of all sizes can take advantage of Meet + Chat + Drive Enterprise at no cost.
How do these services support a transformative workplace?
As many of you may have seen, Google is offering Meet video conferencing to anyone with an email account. Now everyone can stay connected with family and loved ones. The general public can retain a sense of community by using advanced features to host 250 users on a single meeting. Organizations have the same capability plus the ability to record calls and live stream to 100,000 followers. Simplify your daily meetings by connecting Meet to your calendar for internal and external meetings. Users can join from web browsers, the Meet app or call into the meeting room keeping everyone connected.
Any organization seeking centralized file management can utilize Drive Enterprise w/ 1TB of storage per account. This includes enterprise identity, retention and security features to keep information secure within the organization. The free offer includes Shared Drives, Docs, Sheets, Slides and more. Allowing users to edit and collaborate in real time increases efficiency within the organization and reduces redundant tasks. Enterprise Drive aims to meet users where they are by allowing them to edit Excel and Word documents directly from drive without changing the file type or formatting. See how Drive compares in the chart below: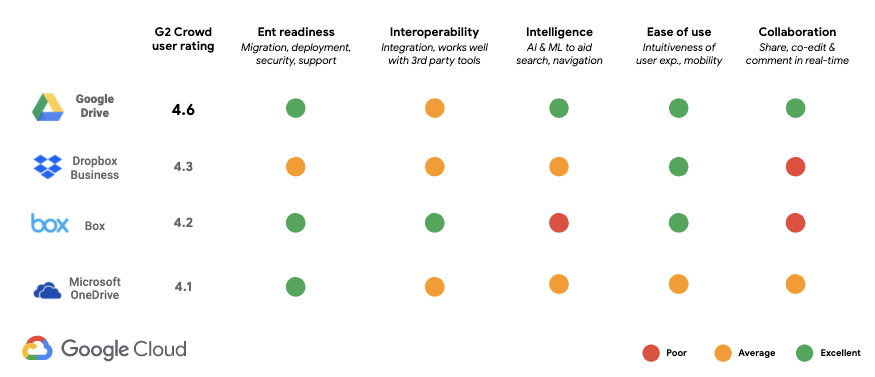 Working from home means co-workers have to work harder to ask simple questions and keep in touch. Managing endless email threads is overwhelming and can lead to inefficiencies. Google understands the struggle and is providing Chat to help organize your company work flow. Create Rooms for contextual conversations that keep projects moving forward. Use Threads within a Room for more granular control over notifications. Connect popular applications to expand Chat's capabilities. Chat has many of the capabilities provided by Slack or Microsoft Teams, but is connected to Google Drive by default. That means document sharing is easier than ever before. Follow this link for a simple explanation of Chat and how to utilize Bots.
If your organization needs a workplace transformation, Observian is here to help. We are a Premier Google partner with vast collaboration experience. Our partnership with Google allows us to offer these essential services for Free until September 30, 2020 without any commitment. If you want to find out more, let's Meet!